HSO is proud to present the Black D.O.G. strain, another elite creation in feminized form.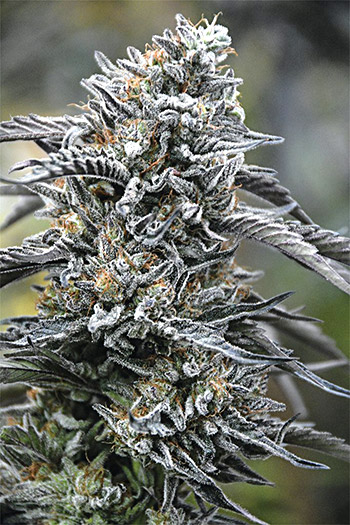 This cannabis strain is the combination of three classic strains pinnacle in the Emerald Triangle for over two decades. Blackberry Kush was combined with the F-2 Emerald Headband male, comprised of our Emerald OG and the original late 70's California Sour Diesel. The result was an immaculate display of color, smell and stature, unique to the cannabis world today.
The meticulous F1 selection was made by HSO's most "biologically minded" grower and breeder, Bio-vortex. He has been rooted in the progression and advancement of many sustainable methods emphasized on soil health and water conservation, compiling many years of dedicated experience. His strong conviction to transform perceptions of what is possible in the world of organic gardening reflects through his immaculate art of building living super soils. Raising awareness through his superior results has sparked a new way of thinking in the relationship we share with the plant and the Earth itself.
Black D.O.G. starts with strong vegetative growth, assisted by an aggressive root system, allowing for a quick turn into the flowering cycle. Spacing between fan leaves makes for good light penetration resulting in dense development valued all the way to the bottom of the stem.
Grape, pine and berry overtones
Indoors, flowers appear quickly as one can expect the plant to stretch around 30%. Crowning sites begin to appear in the 5th week as the Black D.O.G. finishes in a rapid 50-57 days. This selection is well known for its beautiful purple hues, its high resin counts, its strong resistance to disease and its unmistakable aromas. Outdoors, the Black D.O.G. strain may be ready for harvest the last week of September through the first week of October reaching heights over three to four meters.
Grape, pine and berry overtones are accompanied by strong gassy undertones provided from the Headband father. Effects are Indica dominant and can be quite strong cerebrally. Black D.O.G. strain finishes with a strong yet relaxing couch-locking body high. We are proud to present this unique and unmistakable new masterpiece brought to you by the one and only Humboldt Seed Organization. Happy Gardening!!
~ Team HSO